Call us at (218) 260-2005 to schedule an appointment with our veterinarian based in Duluth-Twin Ports, Dr. Amanda Doran.
Home Visit and Euthanasia in Duluth and Twin Ports area
Our veterinarian will visit your home to help provide a peaceful and gentle goodbye for your pet. A relaxing and pain-relieving sedative is given, followed by medication that helps your pet pass away. We will make a free paw print in clay if you wish. You may handle your pet's body care arrangements on your own or choose one of the following cremation options. See below for a map of our Duluth service area. Request a Visit
Pet Owner Handles
Body Care
Our veterinarian will leave your pet with you at your home after the appointment. Options for body care include home burial or arrangements for cremation on your own.  Note that burial may not be allowed in your area, so check with your city for more information.
Request a Visit
Communal Cremation,
No Ashes Returned
Our veterinarian will transport your pet after the appointment for communal cremation where your pet will be cremated with others in a respectful and caring manner. Ashes are not returned.
Under 70 lbs – $110
70 lbs and over – $160
Request a Visit
Separate Cremation,
Your Pet's Ashes Returned
Our veterinarian will transport your pet after the appointment to be cremated separately from other pets. Your pet's ashes are placed in a hand-crafted wood urn with a personalized cremation certificate. Depending on your location, your pet's urn may be delivered to your regular clinic for you or be picked up from the crematory in Cloquet.
Under 70 lbs – $185
70 lbs and over – $235
Request a Visit
Visit Options
Our veterinarians are available for home visits to best address the needs of your pet:
Euthanasia
Quality-of-life Consultation (euthanasia advice and information)
Scheduling options
We make every effort to accommodate your personal circumstances: 
Visits are available weekdays and weekends
Morning, afternoon, or evening
Same-day or advance scheduling
About Dr. Amanda Doran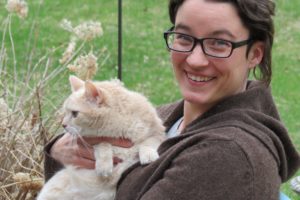 Dr. Amanda grew up in Sauk Rapids, MN and at a young age developed a passion for helping animals and people. She graduated from the University of Minnesota Duluth. During her time in the Twin Ports, she fell in love with Lake Superior and has been trying to find her way back. She received her DVM from the University of Minnesota. While living in the Twin Cities she met her husband who is from Cloquet.
She has had the honor of helping many families and provided peaceful passing for numerous animals in their homes. Over the years, she has developed a special interest in end of life care. Dr. Amanda practiced small and large animal medicine in Thunder Bay, Ontario, Canada for several years before moving to Grand Rapids. She is honored to be collaborating with MN Pets to offer a compassionate and gentle home euthanasia option for pets and families in the Twin Ports area.
Dr. Amanda shares her home with a saucy elderly cat named Kinje, and 2 silly mixed breed dogs named Lark and Hibou. She and her husband enjoy cycling, hiking, cross country skiing and are aspiring recreational mushers.