Call us at (218) 260-2005 to schedule an appointment with our veterinarian based in Duluth-Twin Ports, Dr. Amanda Doran.
Do you live in the Twin Cities? Visit this page for information about services and fees in your area.
Home Visit and Euthanasia in Duluth and Twin Ports area
Dr. Amanda will visit your home to help provide a peaceful and gentle goodbye for your pet. A relaxing and pain-relieving sedative is given, followed by medication that helps your pet pass away. We will make a free paw print in clay if you wish. You may handle your pet's body care arrangements on your own or choose one of the following cremation options. View our SERVICE AREA MAP to see where we travel to. Request a Visit
Pet Owner Handles
Body Care
Dr. Amanda will leave your pet with you at your home after the appointment. Options for body care include home burial or arrangements for cremation on your own.  Note that burial may not be allowed in your area, so check with your city for more information.
Request a Visit
Simple Cremation,
No Ashes Returned
Dr. Amanda will transport your pet after the appointment for simple cremation with the local crematory Furever Loved where your pet will be cremated with others in a respectful and caring manner. Ashes are not returned.
Under 60 lbs – $160
60 lbs and over – $210
Request a Visit
Individual Cremation,
Your Pet's Ashes Returned
Dr. Amanda will transport your pet after the appointment for individual cremation with the local crematory Furever Loved. Your pet's ashes will be placed in a hand-crafted wood urn with a personalized cremation certificate. Depending on your location, your pet's urn may be delivered to your regular clinic or be picked up from the crematory in Cloquet. We can also mail your pet's urn to you via USPS priority mail for $40.
Under 60 lbs – $220
60 lbs and over – $270
Request a Visit
If you are experiencing financial hardship, please call to talk with us about your options. We accept cash, check, credit card, CareCredit, and may have assistance available from our Buddy Fund. 
Are you unsure about your pet's quality of life? Dr. Amanda Doran can visit your home to listen to a thorough history of your pet's illness and discuss your options, as well as the timing for a euthanasia decision. To learn more, visit our Quality of Life Consultation page.
Scheduling options
We make every effort to accommodate your personal circumstances: 
Visits are available weekdays and weekends
Morning, afternoon, or evening
About Dr. Amanda Doran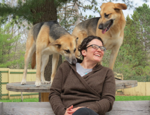 Dr. Amanda Doran graduated from the University of Minnesota College of Veterinary Medicine in 2012. She spent the early part of her career as a mixed animal practitioner in Thunder Bay, Ontario, Canada, before returning to Minnesota to practice small animal medicine in Grand Rapids.  Since July 2019 she has been offering compassionate and gentle at home euthanasia for pets and families in the Duluth area. Dr. Amanda is also a Certified Hospice and Palliative Care Veterinarian, a published author and a public speaker. She is passionate about educating families about end of life care options and educating other professionals about personal resilience.  
She lives in Duluth with her partner and their 2 goofy husky shepherds, Lark and Hibou. Her hobbies include tending her garden, riding her bike ridiculous distances and snuggling her dogs in front of the fire on cold winter nights.