It's our goal at MN Pets to help ease the feeling of loss after one of our visits as much as we can.
To p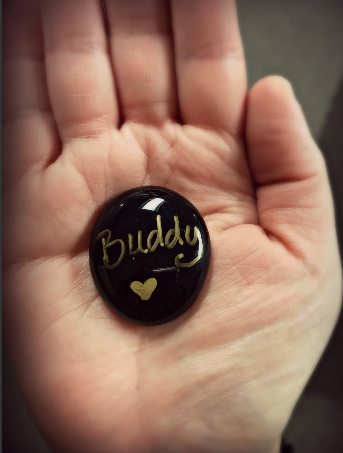 rovide comfort and to help you remember your pet fondly, our doctors make small remembrance stones with your pets name to leave with you after the appointment.
These shiny, black stones are small enough to fit in your pocket and are personalized with your pet's name written with a gold or silver pen. We've come to realize how comforting these small stones are for our clients and have put together some tips for their care:
Once your pet's name has been written on the stone, it's best to leave it in a safe place to allow to dry for a couple of days. Placing it in a pocket right away or holding it too tightly can smudge the writing.
Please be aware that the name may rub off over time. We are always working on perfecting these small gifts and will make improvements as we can.
If your pets name does fade from the stone, simply rewrite their name any way you wish using a metallic permanent Sharpie with a fine point such as this one:

There are so many creative ways to memorialize your beloved pet. We'd love to hear your ideas and what you like to do to preserve your memories.