When a beloved companion animal dies, the void they leave behind can feel overwhelming. When their physical presence filled every space in your lap, bed, home and heart, the emptiness you feel after they are gone can be the most painful part of goodbye. While this physical presence is no longer part of your life, the bond and memories you created will always be there. Here are nine of our favorite ways to remember and honor that bond.
1. Build an "inspiration st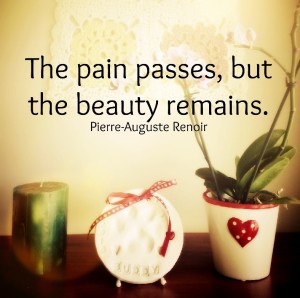 ation" – create a shelf, a corner, a shadow box, or another space in your home to fill with things that heal you and inspire you. Photos, artwork, collars, tags, toys, quotes – anything that touches your heart and brings a smile when you see it.
2. Plant a tree – choose a special place with special people and plant a tree that you can watch grow and blossom. You could read a poem or place a stone near the tree to mark its significance and honor the beauty of life. If you have your pets ashes, you could incorporate them into the ground so that your pet is a part of this new life.
3. Memorial Walk – Take a planned, intentional walk that gives you a space to remember the life and memories of your pet. You may want to choose a walking path that you took with your pet if you shared walks together, or you could plan to travel a path that is beautiful to you.
4. Donate money – Pay it forward by donating to a special cause in memory of your dear friend. Maybe you rescued your pet and want to give back, or maybe you want to give other pets the chance to find their own loving home as well. There are many worthy rescue organizations in our community who welcome monetary donations and items they may need, such as blankets and towels.
5. Donate time – The gift of your time and heart is just as valuable to an organization in need. Shelters, independent rescues and other animal-focused non-profits rely on volunteers for driving, fostering, grant-writing, and more. Many people find that helping animals and people is a healing part of their grief process.
6. Write a tribute – The death of a pet does not get the same recognition as the death of a human family member. Many people feel unacknowledged and alone in their grief. Recreating common human goodbye rituals can help us share in our loss with those close to us. You can write a tribute to email or mail your loved ones, and you can also post your tribute on our MN Pets Facebook page to share with our community.
7. Observe National Pet Memorial Day – This holiday is the second Sunday in September. Some families like to have a small ceremony, hold a ritual or just sit back and share their favorite stories and memories.
8. Make a scrapbook – This is a tried and true way to reflect and create while you grieve. Remembering can be painful after a goodbye, but it is also when stories, images, feelings and smells are fresh in your heart. By documenting these memories, you always have them to remember. This is a wonderful activity to do as a family or with your significant other. Many people grieve differently, but focusing on a common project connects people.
9. Get creative – This is an intentionally vague suggestion because the possibilities are endless! Some people like to paint, some write poetry, some make a stepping stone or jewelry. Everyone has a different healing process, but research does show that non-verbal expression can play a big role. Getting your children involved in a creative memorial project is a wonderful way to reflect on a pet's memory, especially for young children who may not have the vocabulary to capture their strong emotions.
No matter how you choose to celebrate the relationship you shared with your pet, just the act of reflecting and making a space for your feelings can help you during your grief process. As time goes on, remembering will feel less painful and more joyous and it will always serve to connect you to your beloved friend.